"For of Him and through Him and to Him are all things, to Him be glory forever. Amen."
Romans 11:36

Well. It's done. Babydale has a name.
This is like the most nerve-wracking, permanent, and crazy thing I think you do as a parent.  Whatever I choose identifies her as _________.
You can put any word in there: female, smart, stupid, adventurous, talented, quiet, etc…
Names, whether our parents realize it or not, IDENTIFY us.
I didn't realize this until Middle School. Whenever teachers had us do a family tree project and research our name and all that, I thought I had the most boring and unoriginal name because of its meaning: Beloved. I thought, "Really?! Why can't I have something cool?!"
Then, in Middle School, when most everyone struggles with self-identity and embracing physical changes, it hit me. Beloved. That is one of the most endearing and treasured names that God, Himself calls us in His word. We are His, His Beloved. This completely rocked my identity and thinking about my name. Every time someone called my name, I heard, "Beloved". This has followed me since and has empowered me to look beyond looks, beyond emotion, beyond mistakes of my own and see my worth to the God of the Universe. My name played a huge part in this transformation. I bet my mama didn't think about that when she named me that. But I'm glad she did.

So… Babydale's name… Andrew and I had a boy name. It was easy. And if Babydale pops out as a surprise boy, well… he's named.
We had a list of girl options and narrowed to a few, but was really having a hard time deciding. After a couple of weeks of trying out some of the names, one stuck. One encapsulated what Babydale has been and will always be to us and our family… stick with me, just a little more…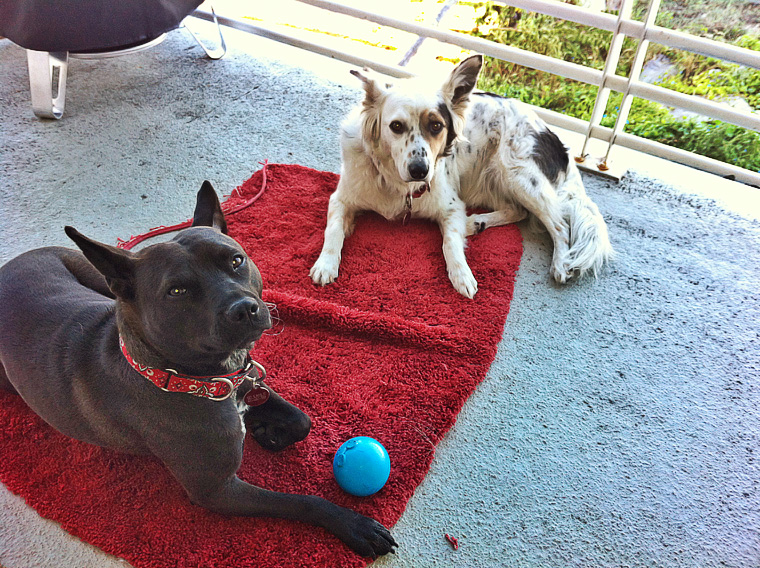 (Obligatory photo of dogs saying, "Get to the point, mom.")


In June of this year, my father chose to leave our family, to continue a life with a woman from his workplace. This has been devastating to all of us. Immediately, I began questioning why the Lord would have this in our lives at this time. But this, nor any other trial in life makes God's love, peace, understanding and comfort any less evident or sweeter, in fact, it throws out all the crap and makes me realize my dependence on Him. He is good, faithful and constant even when us and others aren't. There has been nothing on earth that we could have asked for that would show us God's goodness than this little bundle of joy that we've yet to lay eyes on. Babydale's name came about from two name selections we had on our list and the inspiration of the meaning from this scripture…
"The spirit of the Lord God is upon me…
to preach the good news to the poor,
He has sent me to heal the broken-hearted,
to proclaim freedom to the captives…
…to comfort those who mourn…
to give them beauty for ashes,
the oil of joy for mourning, the garment of praise for the spirit of heaviness;
That they may be called trees of righteousness, the planting of the Lord,
that HE may be glorified."
Isaiah 61:1-3
Truth is, I've heard and read that verse a million times in the last 5 years. It is the life-verse for our former church & their ministries placed in a highly troubled place in Memphis. This wasn't new. But what WAS new was what stuck out this time: beauty for ashes.
In the midst of all the turmoil, hurt and what feels like everything burning and crumbling around us, she was there, our little evidence of beauty.
Two names we had chosen meant just that when put together. So, I give you Babydale's name: Layla Phoenix Dale.
We loved "Layla" for a while. Yes, partly due to the Derek & the Dominos (Eric Clapton) song. Andrew and I love music, is that a secret? Didn't think so. Music is what brought Andrew to Memphis and playing music is what brought us together. It just fit. Phoenix was a name we had chosen for a boy and when it came down to it, after this verse at this time in our life, bringing the two together was perfect.
Already, every time I say her name I am reminded that she is a an example of the beauty that comes out of the trials in this life.
She is our "beauty that is rising from these ashes" and I hope more than anything, she grows up understanding how amazing she has already been to us at this point. I pray she grows to be a "planting of the Lord, that HE may be glorified."


Lastly, I leave you with a song. A song that has been an encouragement and is really one of the only ways I can really express how great God has been in all of this. I'm sure my neighbors are getting tired of me singing it for months straight now. But, I really hope that you see HIS goodness, HIS plan, HIS love, HIS provision, HIS grace in all this. This is nothing of our own. Without God this process would be impossible.
He knew exactly what He was doing, bringing little Layla into our lives at this time and none other. I know it's SOO cheesy to post a youtube song, seriously, I usually roll my eyes and move along. But just give it a listen, k? K.
Verse 2:
"Beauty rises from the ashes
sorrow turns to gladness
when our God is near.
You speak light into our darkness
you heal the broken-hearted
you wipe away our tears.
You're amazing God! You're amazing God!
You can bear the weight of every heavy heart
You can heal the pain, you can clean the stain
You can turn our tears into songs of praise
You're amazing God!"