So, back to the no pressure part of announcing to your family and friends that you're pregnant…
First of April came and I was having this "feeling"… don't know how to describe it but with the combination of me randomly grabbing my tummy, having very Mommy-like dreams, and one of my dogs all of the sudden investigating my pee, I thought to myself, "When… oh dear… I don't know."
Well, friends… I have NEVER peed on a stick. Never had a reason to, didn't even own one. I ran to the store and bought a pack of three. After two wasn't enough to convince me, I went ahead and did all three. Obligatory photo for those who need proof that pigs can fly…


So as if THAT wasn't enough, I called my doctor's office that I had been going to see about the abdominal pain and scheduled an appointment, because at this point I honestly wasn't sure if I could be one or two months. I masked going out there by scheduling a day my sister didn't work there and telling Andrew that I had a follow appointment for the abdominal pain I had forgotten about and had to attend unless they would charge us. Luckily, he bought it and I went.
I went and sure enough, those little sticks don't really lie. I couldn't believe it. I was really excited but at the same time I was scared. I was scared about my business, what my clients would think, if Andrew would be excited or not, and if I would be cursed with morning sickness with my shoots and weddings in full swing. But the one thing on my mind… HOW WOULD I TELL ANDREW?!
I drove around the area, and had to grab some lunch. FIRST PERSON I ACTUALLY TOLD??? : The random guy working behind the counter at Qdoba. What?! I know, I had to tell SOMEONE and needed a little time to think about how I was going to do this…
Then after my belly was full of steak and rice deliciousness, I had an idea. Andrew and I had been talking about getting some chairs for our balcony that faces west at the river. We love sitting out there, watching the sunset, cooking, and just hanging out. So, I thought… ok, I'll buy us some chairs and get a little teeny baby chair. SOOO much easier said than done. But after four different stores, I finally found something that would work. I went home and waited for Andrew to come home. When he did, I had him walk out on the balcony with his eyes closed. When he opened them he saw this…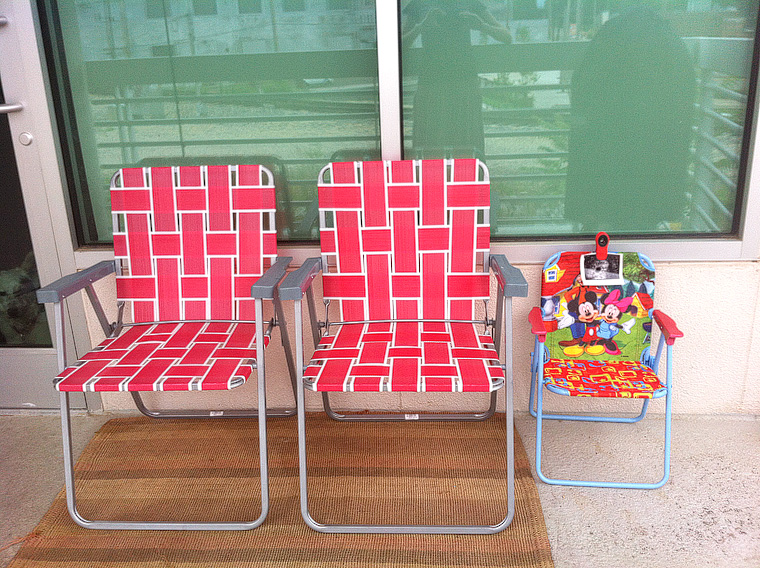 At first he thought it was nice I bought chairs and then started to hassle me about the teeny chair, as I have an affinity for miniature things, but then it hit him. And the look on his face… oh the look on his face, was awesome, priceless and sent a wave of peace over me. He couldn't believe it, heck, I was still in shock too, but it was wonderful, just wonderful.


Announcing to the family was a whole thing of its own. We both had to think about this one. Easter was coming up that weekend and we finally decided to personally write and send little notes to his family asking them to be a grandparent, aunt, uncle with a copy of the sonogram. Then came Easter Sunday, where we went and had lunch with my family, including my grandparents, who had come into town for the weekend.
We had decided to make it to where Andrew would try and pray over Easter lunch and insert a little innuendo of us expecting. It's not as easy as it sounds when you have a brother-in-law who is a pastor and he's expected to pray for the meals, especially in the eyes of my grandparents. But after some sweet talk, we locked in the position to pray! 😀 We all bowed our heads and Andrew prayed (all words below transcribed from an audio recording we took of the prayer)…
"Dear Lord I thank you for this day and for us to come together, Father…I pray we would take this day to remember the life you gave, the life you continue to give Father through Your Son, Father I pray you would continue to bless us and again, I thank you for blessing Amy and I with the life that is soon to come into our life, God…"
The responses were,
"NOW WAIT A MINUTE!"
"WHAAAT? OH NO! YOU'RE PREGNANT?"
"HOW PREGNANT ARE YOU?!"
"HOW DID THAT HAPPEN?"
"WOOOOOO, OH MY GOSH!!!"
"ALL I CAN SAY IS THERE ARE BETS BREAKING ALL OVER THE COUNTRY BECAUSE EVERYONE SAID IT WOULD BE EMILY FIRST."
"SHUT THE FRONT DOOR."
and of course my sister, who is a nurse says…
"ARE YOU TAKING PRENATAL VITAMINS?" and "OH MY GOSH, WHO IS YOUR OB?!"
Needless to say, it was a fun, shocking, exciting and surprising afternoon! And it was only followed by more phone calls from Andrew's family as they received their letters and realized we weren't joking!

SO, WORLD… IT'S TRUE. This ain't a joke.  So make sure you have your camera handy as you might see a pig fly across the sky.